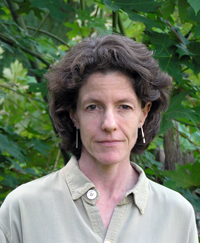 Ellie Klopp, MA, LPC
Phone: (541) 343-1937 - Ext. 11
Experience and Services:
My belief is that therapy is a collaborative process in which we value understanding the past, finding new ways to think and feel about negative experiences, changing patterns of thought and action that no longer work, and creating a meaningful life. My goal is to provide a safe, respectful, and supportive place where we cultivate curiosity and openness about your concerns. I work with people on many levels: intellectual, emotional, physical, and spiritual, to gain access to their strengths and resilience, and to learn to work with their pain, fear, sadness, anger, and distress. While we cannot change what happened to you, we can change how you relate to it, how you feel about yourself now, and how you will shape your future.
I provide individual counseling for adults age 18 and older, as well as couples counseling for same sex and opposite sex couples. I'm a licensed professional counselor and my practice is informed by depth psychology, eye movement desensitization and reprocessing (EMDR), and transpersonal psychology. These approaches are complimentary, combining western and eastern psychological and spiritual traditions with well researched mind-body practices. I draw on the elements of each that are most useful for your particular needs. I have experience with a wide range of issues including:
• Anxiety, stress, fear of failure
• Eating disorders
• Resolution of traumatic experiences
• Grief
• Depression, loss, loneliness
• Self esteem issues
• Relationship concerns and problems
• Life transitions
I have worked in many therapeutic settings with a variety of people. Prior to becoming a counselor, I had a career in the arts and this informs my belief in collaboration and the sense that our lives are a dynamic process.
Education/Training/Affiliations:
• MA in counseling psychology, California Institute of Integral Studies
• BFA in dance, University of Michigan
• EMDR training, levels 1 & 2, EMDR Institute
• Trauma Healing Series, The Trauma Healing Project
• Member of the ACA, OMHA
I offer a 30 minute consultation at no charge so that we can get to know one another a bit and decide whether or not to proceed with counseling.
Fee/Insurance:
My fee is $85 per 50 minute session, and I offer some sliding scale sessions. I am a preferred provider for Pacific Source, ODS, Aetna, and Life Sync. Many other insurance companies will cover a percentage of my fee as an out-of-network provider, depending on the company and your plan, and I can help you find out more about this.