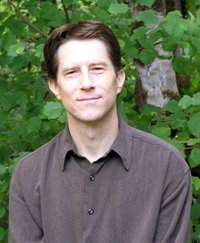 Roland Hathway, LPC
Phone: (541) 343-1937 - Ext. 10
Website: www.rolandhathway.com

Email:

When the call for change comes in your life, finding and engaging with a therapist who supports this opening can be vital to your success.
• I always emphasize acceptance, compassion and empowerment
• I provide a safe, yet challenging therapeutic environment
• I offer treatment solutions based on your unique situation and needs
• I remain an active participant in our sessions
My strength is in helping you:
• find and activate your own intrinsic motivation
• spotlight, understand and transform outdated beliefs and behaviors
• learn new skills and tools to respond to your challenges
• develop a vision and direction for your life
Given the appropriate support and environment, I know you can make real and lasting change in your life - that you can restore hope, resolve troubling issues and move forward.
Indispensably, I bring my own long-term dedication to personal growth and academic training. Over the last 20 years, the insight I have gained through therapy, recovery, and spiritual practice has become a primary asset in my practice of counseling and psychotherapy.
I received my Masters degree in Counseling Psychology from the California Institute of Integral Studies in San Francisco, California. This environment offered a holistic and integrative perspective, one that honors the blending of contemplative, spiritually-minded Eastern traditions with more active and practical Western philosophies of healing. I use an integrative approach to counseling and therapy, drawing as necessary from a range of therapeutic strategies and perspectives.
Services:
Individual Counseling and Therapy
My primary focus is on working with individuals. Rather than trying to change or fix you, I empower and facilitate you in increasing your self-awareness. The better choices you subsequently make create meaningful and lasting change in the direction you want. Life is largely about relationships, and your relationship with yourself, in all its facets and levels, determines how you relate to the rest of the world.
Addictions
I have extensive experience and training in addressing the many facets and stages of healing from addictions, whether from alcohol/drugs, sex/pornography/internet, food, gambling, co-dependence, etc.
Couples and Marriage Counseling
I work with couples of all orientations, including married, domestic partners, same-sex relationships - essentially any form of committed relationship. I provide a setting in which both partners can safely explore the relationship, better understand the challenges, and work toward a desired change.
Areas of concern often include:
• Communication problems
• Lack/loss of intimacy
• Premarital concerns
• Infidelity
• Pornography/sex addiction
• Excessive anger/conflict
• Jealousy
• Parenting issues
• Commitment issues
• Money issues
Relationship Counseling
I frequently conduct individual relationship counseling to address the many types of challenges we face when in (or out of) a relationship. This work may relate to a spouse, a partner, a potential mate, an ex-spouse, etc. Areas of this individual work might include:
• healing from a painful breakup
• overcoming commitment and abandonment fears
• hesitancy around entering a new relationship
• healing relationships with family members
• developing healthy relationship skills
• situations where your partner is unable or unwilling to attend couples counseling with you
Licensure: Licensed Professional Counselor (LPC) through the State of Oregon Board of Licensed Professional Counselors and Therapists (#C2048).
Credential: National Certified Counselor (NCC) through the National Board for Certified Counselors (NBCC).
Professional Affiliations: American Counseling Association (ACA). Oregon Mental Health Associates (OMHA).
Fees:
My standard rate is $85 per 55-minute therapy session for individuals and couples. In certain limited cases, I offer a reduced sliding scale fee. Payment is due at the time of session. I accept checks and cash.
Insurance Reimbursement:
I accept most insurances and am happy to assist you in utilizing your insurance to pay for your counseling. As a courtesy, I will review benefits with an insurance provider directly.
Contact me by phone or E-mail to set up an appointment.
If you want to talk with me before scheduling a counseling session, I am happy to offer you a free 30-minute consultation. Together, we can discuss your concerns and therapeutic goals, along with how I might help you. I look forward to speaking with you.
I know that we all need help in critical times.
Reaching out for support and guidance is a sign of strength.