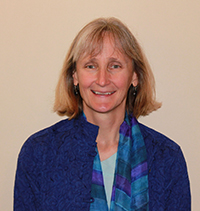 Gail Richards, MSS, LCSW
Licensed Clinical Social Worker
Phone: (541) 343-1937 - Ext. 19
Fax: (541) 343-5875
Experience:
I have been a licensed clinical Social Worker for 23 years and have practiced in Eugene for 20 years. I received my BS degree in Psychology, with a concentration in mental health treatment, from Western Washington University in 1983. I received my Masters degree in Clinical Social Work from Bryn Mawr College in 1986. My clinical training has focused on the treatment of children and families and treating trauma related issues.
Services:
I work with children, adolescents, adults, and families. I have a special interest in working with children and adults who have experienced trauma or who are victims of traumatic events.
I integrate family systems; cognitive behavioral and psychodynamic approaches to support my clients. I believe that people who have experienced adversity and trauma have the capacity to heal and learn new ways to cope and integrate their past experiences into a healthy and satisfying life.
I specialize in the treatment of anxiety, depression, parenting issues, child behavior concerns, family conflict, and relationship issues.
My areas of expertise include:
• Parenting Challenges
• Couples dealing with a difficult pre-natal diagnosis
• Couples adjusting to raising a child with a disability
• Helping couples parent effectively through a divorce
• Helping children through grief and loss
• Reducing anxiety, especially with children
• Helping people who have experienced physical or sexual abuse
Fees / Insurance:
I accept most insurance plans, including Crime Victims' Compensation