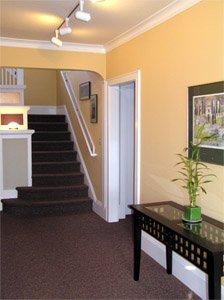 Welcome to Pearl Street Offices
Pearl Street Offices is the working space for several mental health professionals in the Eugene area. Counselors, therapists, social workers and psychologists are available at our easy-to-find location to help with a variety of needs for individuals and families. Each professional located at our office is an independently accredited individual with their own specialties and focus.
We encourage you to get to know the professionals at Pearl Street Offices by visiting their biography page.
Some of the specialties offered by the Pearl Street Offices professionals include:
Family and Couples Therapy
Trauma and Healing
Individual Counseling and Therapy
Addictions
Adoption Issues (child and adult)
Emancipation Issues for Young Adults
Blended Families
Career Issues
Stress Management
Women's Issues
Chronic Health Problems
Eating Disorders
Self Esteem Issues
Depression / Anxiety
Grief and Loss
Life Transitions